Who is online?
In total there are
3
users online :: 0 Registered, 0 Hidden and 3 Guests
None
Most users ever online was
171
on Wed Feb 10, 2021 7:59 pm
Top posting users this week
Do you or your family have any Christmas traditions that they do every year? Do you do anything special?

I usually open my main presents on Christmas Eve and on Christmas Day I get smaller presents and chocolate. Also, on the 25th my family and me eat Christmas dinner which is usually chicken and then go to an evening Mass at Church. On Boxing Day my Godmother's parents come round for dinner aswell (:
♫ ♬♫ ♬♫ ♬♫ ♬♫ ♬♫ ♬♫ ♬♫ ♬♫ ♬♫ ♬♫ ♬♫ ♬♫ ♬♫ ♬♫ ♬♫ ♬♫ ♬♫ ♬
Thank you bellak for my avatar c;

Diamond




Posts

: 924



On Christmas Eve, I go to my grandma and grandpa's house and open presents from her and see my aunts, uncles, and cousins. I get some extra presents too, because my birthday is right around the corner. This year we decided we would play a game where we all buy funny presents and randomly pick a present. It is really confusing and involves rolling dice.

On Christmas Day, we open presents with my mom, dad me, and my brother. Then, we have Christmas dinner with my other grandma and grandpa's house.

Then on the 26th, I open my birthday presents.

Then in late December/early January, I see my OTHER grandma and grandpa. We usually open presents there, but this year we decided no presents and it will just be a get-together.
♫ ♬♫ ♬♫ ♬♫ ♬♫ ♬♫ ♬♫ ♬♫ ♬♫ ♬♫ ♬♫ ♬♫ ♬♫ ♬♫ ♬♫ ♬♫ ♬♫ ♬♫ ♬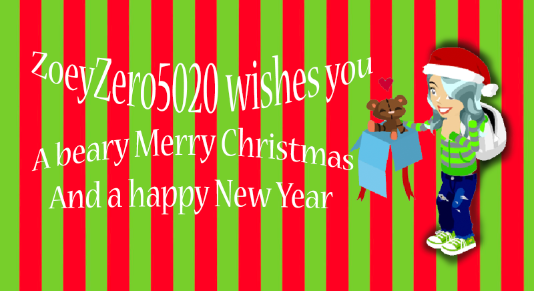 Rules
-
Homepage
-
F.A.Q.
-
My Profile
-
Bearville
-
Official BABW Site
-

Foreva




Posts

: 468



Cool!

Basic rule broken- no spamming. Please don't post pointless posts in the future.
-Diamond
♫ ♬♫ ♬♫ ♬♫ ♬♫ ♬♫ ♬♫ ♬♫ ♬♫ ♬♫ ♬♫ ♬♫ ♬♫ ♬♫ ♬♫ ♬♫ ♬♫ ♬♫ ♬

Crushx




Posts

: 161



---
Permissions in this forum:
You
cannot
reply to topics in this forum